Robert Israel Lappin 1922-2020
The Man, the Visionary, the Philanthropist
By Mark R. Arnold
January 27, 2020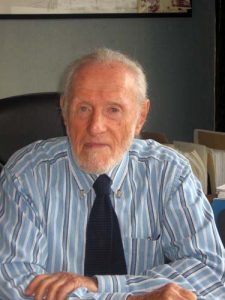 In a cardboard-covered journal on whose cover the owner had glued the picture of a telescope, a 14-year-old boy in Salem, Massachusetts, kept the essays and book reports he wrote for his English class – essays on Thoreau, Emerson, the Elizabethan theater, Edgar Allen Poe, and ruminations about his intended profession: Astronomy. Also, his thoughts about how to lead a successful life:
"My idea of success," wrote Robert Israel Lappin in 1936, "is to earn an honest living, be a respected citizen in the community and most of all live happily." Then, he added: "There is, however, one point which I have failed to mention and which I believe is an absolute necessity in securing real success. This is to be of service to my fellow man."
What appeared to be an afterthought later became the central focus of Bob Lappin's life: being of service to his fellow man, more specifically, to the cause of Jewish continuity and community.
Bob Lappin today is a surprisingly sprightly 98-year-old optimist, fighting back from a stroke he suffered in December 2018. He is a man who prides himself on turning adversity to advantage, beginning with an incident when he was five years old that helped forge his Jewish identity and set him on the path to becoming a philanthropist and benefactor to thousands of American Jewish youth from the North Shore of Massachusetts and beyond over the past 50 years.  As he recounts it:
"When I was five, a group of parochial schoolboys cornered me coming home from school, called me a dirty Jew and beat me up. It happened more than once. I used to cry and ask my parents, 'Why do I have to be Jewish?' Then one day when they started to beat me, I fought back. They didn't expect it. They stopped, and the ringleader asked if I'd like to play with them. They never picked on me again."
Bob Lappin says he learned three things from that experience: "Be physically fit, be mentally strong, and learn to turn the darkest moments into the greatest opportunities."
Those three lessons have guided his life ever since.
Today Mr. Lappin is best known for creating the Youth to Israel Adventure (Y2I), a fully subsidized program that sends 100 or more Jewish high school sophomores and juniors from more than 40 communities on the North Shore of Massachusetts and Greater Boston to Israel for two weeks in July in an effort to strengthen their Jewish identity, commitment, and, above all, pride.
"The secret to keeping children Jewish," he says, "is instilling Jewish pride. Lappin Foundation programs instill Jewish pride through positive Jewish experiences. By doing so, the odds of their staying Jewish, marrying Jewish and bringing up their children Jewish, move in our favor."
Mr. Lappin is now seeking to convince leaders of the much larger international Birthright Israel program to replicate Y2I's success by reducing its minimum age of eligibility from 18 currently to 16. That way, Jewish teens will go to Israel en masse and gain valuable Jewish and Israel advocacy skills before they go to college. This will prepare them to effectively deal with campus antisemitism and anti-Israel activities and sentiments that have infected academia.  He explains it this way:
"Teenagers need to be comfortable in their Jewish identity and knowledgeable about Israel before they start college in order to combat the negative attitudes they will encounter toward Israel and Jews."
A thin, wiry man who sweeps his white hair straight back in a ponytail — unusual for someone of his generation — Bob Lappin is a shy, humble philanthropist, with a burning commitment to Jewish continuity and Jewish pride. As we speak, he is sitting in his den dressed in gray sweatpants, thick blue socks, and a gray sweatshirt customized with UMP, a gift from his grandchildren.  He talks hesitantly, choosing his words carefully, struggling to overcome the lingering effects of the stroke, which paralyzed the right side of his body.
His immigrant father, John Ralph Lappin, was born in Belarus, Russia, but grew up in Jerusalem. He studied in a Yeshiva there before coming to Boston at the age of 20. Here he met and married Boston-born Frances Mary Palais, whose father was a carpenter. The couple settled in south Salem, where they raised their two sons: Stanley and six years later, Robert.
Adapting quickly to American life, like many Jewish immigrants of his generation, John Lappin started out as a peddler, selling dry goods door-to-door, first on foot, later with a horse and buggy. Saving money whenever he could, John also invested in small apartment buildings and commercial real estate in the Salem area, setting an example later followed by his son Bob.
Though his mother was raised Orthodox and his father was a Talmudic scholar, the Lappin household did not keep Kosher and was not particularly observant. The boys attended cheder (Hebrew School) at Salem's Sons of Jacob congregation, where they had their bar mitzvahs. The family attended religious services principally on the High Holidays. Frances changed dishes for Passover but didn't light candles and say the traditional Jewish blessings on Friday nights.
As a youth, he had heard stories about how, eight years before his birth, his father lost all his savings in the great Salem Fire of 1914. But his dad rebuilt his savings and more by buying apartment buildings and collecting rents from tenants. In fact, when the youth was 13, Bob began collecting weekly rents whenever his father was too ill to do it himself. According to a profile of Bob Lappin in the Boston Globe in 2009:
"Since this was the Depression, it was often an excruciating task, with tenants apologetically informing the boy that they had no money to give him. From his father he learned compassion, fairness and negotiation. If they couldn't pay the full amount, could they pay half? Would they be able to pay next week? As far as he knows, his father never evicted a single tenant."
His father had a most unusual talent. "He was known as a man with strange healing powers. He could lay his hands on someone and they'd recover from what they were suffering." It worked on Bob himself: "When I was very young, one time I had an earache. He held his hands over my ear and suddenly I felt better."
Both parents worried about antisemitism. And Bob says, "I myself have felt antisemitism around me all my life." He explains: "My parents wanted my brother and me to be successful in a non-Jewish world but not to forget we were Jewish. After my experience with the bullies, not only did I remember, but in school I became the protector of my Jewish classmates. It's not that I was so strong, just that I wasn't afraid to stand up for them."
Serious about his studies and possessed of a strong will to succeed, Bob was a straight "A" student at Salem High School, from which he graduated in 1939.  During his youth, he read all the classics and memorized Shakespeare sonnets, some of which he can still recite.  When it was time to apply to college, he submitted only one application: To Dartmouth College, where Stanley had gone. "I wrote them I wasn't applying anywhere else. I wanted to go there so much that I said if they didn't admit me, I would work for a year and apply again. They had a strict Jewish quota, no more than 10 percent of the freshman class. Luckily they took me."
"I was always reminded I was Jewish. For instance, there was only one fraternity I could join, the Jewish fraternity. I joined it. I wasn't a 'rah-rah' kind of guy. In fact, I fashioned myself a Communist for a time. When they were initiating me, I told them if they tried to paddle me, I'd punch them in the face."  With a wry smile, he adds: "They paddled other kids, but they didn't try to paddle me."
He majored in chemistry with a view to becoming a doctor, but two events intervened. The first was World War II. After graduating from Dartmouth in 1943, Bob entered the Navy, serving four years as an officer on the USS Cecil, a relief communication ship that saw action in the battles of Iowa Jima and Okinawa in the South Pacific. His ship was part of the armada that accepted Japan's defeat in Tokyo Bay in 1945.
The second event was longer lasting: while on leave, he went to the Preston Beach Hotel in Marblehead, Massachusetts where he met a beautiful, bubbly young woman from Swampscott, Massachusetts, Marion (Mimi) Zaiger. "It was love at first sight," remembers Bob fondly. Their first date was so promising that the very next day, Mimi called Bob up to ask a question she'd been too embarrassed to ask when they met: Was he Jewish? Remembers Bob: "She actually got her answer before my dad turned the phone over to me. His Jewish accent told her what she wanted to know."
Bob was mustered out of the Navy in early June 1946. On June 15, he and Mimi were married, and they went to live with her parents for two years in Swampscott, Massachusetts. They bought a modest house Marblehead, and later settled in the Little's Point section of Swampscott, where they raised their three children: Andrew, Peter, and Nancy. Bob and Mimi remained a devoted couple, married almost 72 years, until Mimi's death in 2018.
Abandoning his plan to become a physician after his marriage, Bob joined his father-in-law's business, Signal Manufacturing Co., in Lynn, MA. The company manufactured automobile accessories such as fender flaps, windshield wipers, and car-window defrosters. Following his dad's example, he also began acquiring real estate on the side. When he was 24, he bought property with his brother Stanley, and later his own in Salem, Andover, Mass., South Bend, Indiana, Chicago and Canada.  Over the next 20 years, Bob Lappin acquired 12.5 million square feet of industrial and commercial space. He became a multi-millionaire.
At work, Bob learned that nothing he had learned at Dartmouth or in the Navy prepared him for life on the factory floor. "They didn't know what to do with me," remembers Bob. "They thought they'd make me a tool and die maker, but that wasn't for me. Gradually I took over Purchasing, then learned other aspects of the business."
In 1949, the company re-tooled to make a major new product: an electric car wax polisher. With more and more people owning cars and trucks, and a do-it-yourself mentality encouraging people to reduce reliance on others to do jobs they could save money by doing themselves, this looked like a major growth opportunity. It was not to be, however. Explains Bob: "The week before we were set to go to market, self-polishing wax came out. Our plans were ruined. Suddenly, no one needed our product."
Reaching back to the lesson he remembered from fighting off childhood bullies – "Learn to turn the darkest moments into the greatest opportunities" — he asked himself how to turn this disaster to advantage. "Putting my thinking cap on," Bob recalls, "I came up with the idea of making the electric car polisher an electric floor polisher instead. All we had to do was extend the handle and change the packaging. When we did so, we moved into the housewares business."
Bob hit the road recruiting manufacturers' agents all over the country to sell to department stores and discount houses. The floor polisher produced by Shetland Manufacturing, the company he founded and ran, became almost an immediate success. He took a "darkest moment" and turned it into a "greatest opportunity." Follow on products included vacuum cleaners, blenders and other small appliances.
By the time he sold the business to SCM Corporation in 1968 for $6 million, Shetland had 1,100 employees in Salem and 50 in Canada. While retaining voting rights himself, Bob began divesting his real estate empire at age 35, giving his properties to his three children over time.
Yet perhaps because he was brought up on stories of life's painful reversals, Bob Lappin became known for practicing personal frugality. For more than 20 years he drove a 1988 Mercedes – it replaced a 1978 Mercedes. Rather than drink bottled water, he kept a pitcher of tap water under his desk, and he usually brought brown-bag sandwiches to the office for lunch. He dressed modestly, sought to avoid the spotlight and spent money on worthwhile causes rather than on himself.
As a rising young businessman, in the late 1940's Bob became increasingly drawn into the world of Jewish community service. In 1948 he swelled with pride when Israel became a recognized state, a homeland for the Jews. When he was asked by the Jewish Federation of the North Shore, the fund-raising arm for local Jewish social service agencies, to raise funds for the fledgling Jewish nation, he eagerly agreed.  "I started at the bottom, with a bunch of cards with names of people to ask for money," he remembers. "I never liked asking people for money, still don't. But it's something that has to be done, so when I finished with the first bunch, I took more cards."
As the years went by, Bob became increasingly active in the local Federation, rising in its volunteer ranks to become Federation president from 1967 to 1972. Three years earlier, in 1964, he made his first visit to Israel, under the auspices of United Jewish Appeal, and there he had a profound awakening. As he described the experience in 2014:
"I watched Jewish people come down the gangway when their ship docked in Haifa. They got down on their hands and knees to kiss the ground. There were young people with children, people of all ages. What made the deepest impression on me were the old people coming to this land of freedom, a land that wanted them even if they couldn't take care of themselves…. Three days later I went to the Western Wall. It shook me up…. The trip was a life-changing experience for me, and I came to the conclusion that this was a great little country worthy of my full support."
During his years as Federation president, Bob became increasingly concerned about the toll Jewish assimilation and intermarriage were taking on Jewish identity and continuity, nationally and locally. How, he asked, could our Jewish community, and later others, turn back the tide of disappearing Jewish identity, especially in young people?  A plan started to form in his mind, one that would give teenagers an introduction to the promise and reality of Israel.  He wrote a letter to the Federation board, outlining his idea and asking the group to participate in the cost, which they agreed to do. By 1970 he and other Federation leaders were ready to go public.
The plan: to give a summer experience in Israel to every North Shore Jewish high school student who wants to go. Bob would subsidize the trip, initially paying $300 per teen, with the balance of $500 the responsibility of each family. Among the early enrollees was Debbie Coltin, then a student in Peabody High School, now executive director of the Lappin Foundation, the umbrella organization that Bob set up as the principal vehicle for his philanthropy.
The trip was successful from the start, with most youths returning from the Jewish homeland thrilled with memories of their Israel experience and proud to be Jewish. While there, they traveled the country, visited ancient biblical sites and kibbutzim, and socialized with Israeli teens, with whom they explored what it means to be Jewish in their country and the United States. Says Bob with great satisfaction: "Almost all of them return home with a strong and positive Jewish identity, whereas when they left on their trips there was hardly any Jewish identity at all."
The length of the Y2I trip has shortened over the decades from seven weeks to two weeks because today's young people have other summer activities now competing for their time. The total cost of the program, including the trip and pre and post-trip programming, has escalated in cost from $800 in 1971, to $6,600 in 2020. But the effort has been so successful — and Bob Lappin so committed to using it to promote Jewish continuity and build Jewish pride — that in 1996 he began fully subsidizing the trip, thus removing cost as an obstacle to participation.
Since that time, enrolment has soared, from an average of 25 North Shore youth with partial subsidies to 100 or more with full subsidies, every summer. He also provided subsidies to 15 other Jewish communities around the country so they could pilot Y2I in their communities.
Bob Lappin's encounter with bullies at age five was the first crisis of his life. The second was when he had to re-engineer a promising new product a week before going to market.  In both those situations, Mr. Lappin devised a way to turn life's darkest moments into its greatest opportunities. 
A third, even bigger, crisis confronted him in December 2008, when he received the shattering news that much of his personal fortune, his foundation's assets, and the retirement funds of his current and former employees had evaporated in investment manager Bernie Madoff's Ponzi scheme. Madoff had been managing $83 million for Bob Lappin, including $8 million from his foundations.  It was all gone. Included in the vanished funds were the entire 401(k) holdings of 60 or more employees and former employees of his company and foundation.
This gave Bob Lappin two options: He could express sympathy with the out-of-luck workers and tell them there was nothing he could do about it. Or he could find a creative way to make the employees and ex-employees as whole as possible. To the surprise of no one who knows Bob Lappin, he pledged to do right by his employees and ex-employees by restoring as much of their assets as possible.
First, though, there was a period of crushing disappointment and uncertainty. Unable to meet payroll, Lappin Foundation officially closed its doors. But staff members began showing up for work anyway and kept its programs running. Remembers Executive Director Coltin: "To me this was never a job, it was a mission." So, she kept working, as did some other staffers.
Within two days of closing the Foundation, canceling the 2009 Y2I trip and ceasing operations, an anonymous donor made an incentive gift of $100,000, and Lappin Foundation turned to fundraising to remain operational. After six months of paperwork and accounting, the Lappins – Bob, Mimi and their three grown children – put money back into the retirement accounts of the employees. Workers and retirees didn't get as much as Madoff's phony statements had promised, but they received an amount equal to all their contributions and company matches over the years, plus industry average gains as calculated by the Lipper Balanced Fund Index. Making good on this promise cost the Lappins more than $5,000,000. And it reduced Bob Lappin's personal net worth to about $2,000,000, one-tenth of what it had been before the scandal broke.
Today, the cost to run programs of Lappin Foundation is more than $1,000,000 per year. The Foundation's annual campaign raises about $500,000 for direct program expenses, leaving the balance of expenses–including personnel, overhead and other program expenses—to be paid by the Robert I. Lappin Charitable Foundation.
"I worked hard every day to recover from Madoff," Bob remembers. He built what he calls "the largest self-storage business in Massachusetts and maybe New England." And he also set up an investment arm, employing six people, to manage his holdings.
"The Madoff fraud had the capacity to destroy me," he told an interviewer in 2017. "However, I looked at it as a test of my character. Because I passed the test, I am blessed with enormous inner satisfaction."
For the third time, Bob Lappin found a way to turn the darkest moments into the greatest opportunities.
Since its inception in 1970, more than 3,000 teens have participated in Y2I, which has been the focus of Bob Lappin's philanthropy.  It's money well spent, in his view. In a letter to Jewish leaders, Y2I graduates, rabbis and academics whom he asked to contribute articles to this book, Bob Lappin wrote:
"I believe the teen Israel experience is key to Jewish continuity and the most effective way to prepare college-bound Jewish students to effectively deal with anti-Semitism and anti-Israel activities and sentiments, which have infected academia."
Studies of the impact of the trip indicate that more than 70 percent of Y2I alumni marry Jewish mates and that 90 percent of those are raising their children Jewish.
Besides its sponsorship of Y2I, Lappin Foundation funds a range of Jewish living, learning and interfaith outreach programs, all free of charge.
 In addition to activities promoting Jewish continuity and community, Mr. Lappin has for more than 40 years spearheaded efforts to promote Jewish-Christian dialogue. As part of this effort, Mr. Lappin sponsored a trip of Evangelical pastors to Israel and Lebanon in 1982. His roommate and dear friend from that time is Professor Marvin Wilson, an evangelical Biblical scholar at Gordon College in Wenham, MA until his retirement in 2018. Reflecting on his friend in January 2020, Professor Wilson observed:
"Bob Lappin has a Biblical middle name, 'Israel," in Hebrew 'Yisrael.' It means 'one who wrestles with God.' Bob is one of the very few people in this world who truly live up to their Biblical names.  He is a person of deep conviction, integrity, and tenacity who is willing to struggle through great obstacles like the Madoff scam to achieve his vision. He never gives up. He's never satisfied with the status quo, constantly working for something greater, no matter how hard it is to obtain it. He's constantly asking: 'How can we build a stronger Jewish community for tomorrow.'"
Mr. Lappin has been recognized for his accomplishments in several ways. For keeping his retirement commitment to employees, The Boston Globe named him one of its "Bostonians of the Year" (2009), and Reader's Digest included him in its "Best of America" personalities (2010). The Boston-area Jewish newspaper, the Jewish Journal, named him an "Honorable Menschion" (2017), and he has been awarded honorary doctorate degrees by Salem State University (2010) and Gordon College (2017). At the age of 97, he was given the Emmet Award by Christians and Jews United for Israel (2019).
Bob Lappin has valiantly fought his way back from the debilitating stroke of December 2018 that paralyzed his right side and left him unable to walk, barely able to talk. After more than a year of physical and occupational therapy, Mr. Lappin is talking almost as well as ever, if a bit more slowly, and he is walking with a cane. As he approached his 98th birthday on January 26, 2020, he was asked what his goals are now.
He said he has personal goals and other goals. The personal goals include walking without a cane, living to 100 and "seeing this book published." The other goals include raising "just a little more money" – estimated at $25,000 to $30,000 a year more — to make Y2I self-sustaining in perpetuity. And persuading the leaders of Birthright Israel to reduce their age for eligibility to 16, from 18, so more of their young recruits, like the Y2I teens, will have strong, proud Jewish identities before they arrive at college.
Bob remains firmly devoted to promoting Jewish continuity and community – by instilling pride in Jewish children.  "Children seldom hear how awesome it is to be Jewish and how wonderful it is to be part of a family that is thousands of years old," he told a teenage interviewer a few years ago. He continued:
"Jewish people have contributed to every field of human endeavor and continue to do so, making the world a better place for humankind. Every Jewish child is a link in the chain of tradition. When children no longer identify as Jewish, our chain weakens, leaving us vulnerable. Being Jewish is something to be proud of, and I am doing my best to impart this message to Jewish children. Our future as a family depends on it."
(Robert Israel Lappin, 98, passed away on April 3, 2020).
Frequently Asked Questions
Keep up to date with our
FREE programs!